What is Jacksonville Heroe's Tribute?
Please note: The truck has hydraulic leaks at the moment and we can not raise the flag. I apologize. I am trying to get it fixed. To see the progress, click here.

A 1974 Pierce Snorkel fire truck with 85' elevated platform
A 20' x 38' American flag.
Special events
Parades
Funeral services
Memorials
Marine Corps, Army, Navy, Air Force, Coast Guard, Firefighters, Police Officers, Sheriff's Deputies.
This personally owned fire truck is available to honorably raise the American flag at any function that is respectful of those who serve or have served our country. There is absolutely no charge to the recipient or their family. Simply call and reserve the truck. If it is available I will do my best to be there. I am only able to go to locations in or near Jacksonville, Florida.
---
For reservations, questions, concerns, or to make a contribution, call the number below or fill in the form. Thank You.
904-786-7300
VISITORS
---
OCALA, FL
Another fire truck owner is now providing a similar service in Ocala, Florida. We can put you in touch with him too. here is an article from the OCALA.COM newspaper.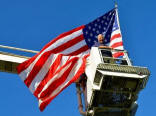 Important Note:

God Bless America!

Thanks to some kind monetary contributions we were able to replace our tattered flag with a new one from our local flag store.
Buchanan Sign And Flag

Other generous donors are:
See pictures of what we do by clicking here.