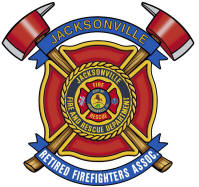 JACKSONVILLE ASSOCIATION OF RETIRED FIREFIGHTERS
625 Stockton Street Jacksonville, Florida 32204
Beginning in March, 2014, that and all subsequent newsletters will be downloadable as PDF files.
Adobe reader is necessary to view them. It is a free download and quite common because it takes up less space and bandwidth for us to do this.
When you click the download icon, you will go directly to the download page. Be sure to uncheck the Google Toolbar and Google Chrome browser add ons located in the middle box before downloading.